Category: Related Topics
Unblock meetup in Kuala Lumpur, invited some of people to share their views on how the blockchain technology can transform the Halal food industry in Malaysia.
When the lab-grown meat hits the market, it could become another source of cross-contamination. How the lab-grown meat is defined by its regulatory agency is going to make a difference.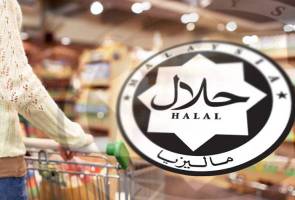 Multinational companies (MNCs) have long realized the huge potential of Halal sector and the entire parallel economy that can be built through Halal businesses.
The 32 member-countries represent a halal economy that is more than $700 billion and accounts for approximately 34 percent of the $2.1 trillion global halal economy.
Touted as the world's largest halal trade show, Mihas 2019 will be held from April 3 to 6 at Malaysia International Trade and Exhibition Centre (Mitec) in Kuala Lumpur.
And what does Dubai do best? Build the world's greatest brands by Muslims and non-Muslims for Muslims and non-Muslims. Emirates, Jumeirah, Emaar and more.
Malaysia could provide an alternative to the Chinese importers affected by the 25 per cent tariffs imposed by the US.
With this media partnership, both organizations will leverage from the marketing opportunities each party has to offer to allow for further market reach.
The Director of Buying said that because halal food is religiously sensitive, the company wanted their own in-house brand to make sure they get it right.
Meat from animals slaughtered without prior stunning, is not eligible for the EU-Bio-label for organic products.
SimplySiti Sdn Bhd aims a 50% year-on-year (YoY) sales growth as it looks to expand its presence in the region, beginning with Indonesia by the second half of the year (2H19).
The bank today announced that it has partnered with local cosmetic company SimplySiti Sdn Bhd to expand its halal beauty care business beyond Malaysia.
PURE London, which is held every February and July, attracts over 17,000 visitors, displaying over 1,300 womenswear, mens-wear and kidswear collections and 160 garment and fabric suppliers.
"The first Arab halal system will include mutual recognition of halal certificates and easing the trade movement between our Arab countries and the world."
"We, as a company, anticipated Halal. We knew that we needed to do this now or later. We started the process and did it globally," added General Legal Counsel, Moutaz Abdullat.