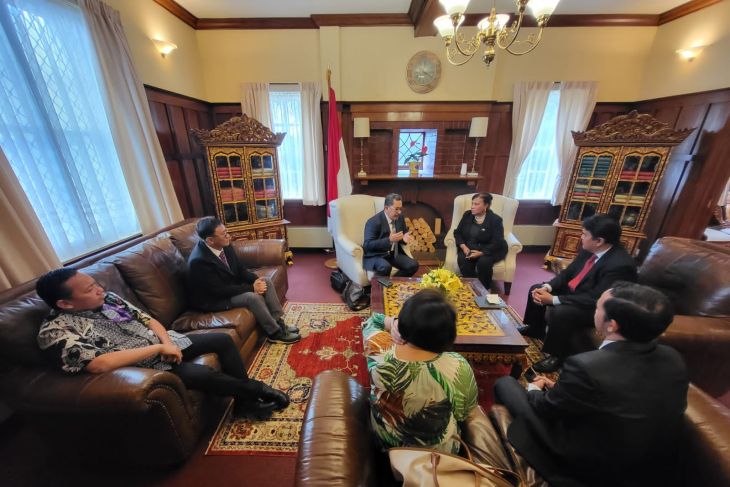 The assessment was conducted to provide mutual recognition and acceptance for halal products in the two countries
Jakarta (ANTARA) – The Religious Affairs Ministry's Halal Product Assurance Agency (BPJPH) conducted accreditation of three halal institutions in New Zealand under the scope of cooperation in the halal product assurance service sector.
The accreditation process was undertaken toward the Halal Conformity Service (HCS), New Zealand Islamic Development Trust (NZIDT), and the Federation of Islamic Associations of New Zealand (FIANZ).
"The assessment was conducted to provide mutual recognition and acceptance for halal products in the two countries," Deputy Minister of Religious Affairs Zainut Tahuid Sa'adi noted through a statement, Wednesday.
Head of BPJPH Aqil Irham explained that the accreditation process was conducted to ensure that standards used by halal assurance institutions in New Zealand are the same as the one used in Indonesia.
If some institutions have already met Indonesia's requirements and standards concerning halal product assurance, then New Zealand's exporters need not go through the process of having their products certified as halal, he elaborated.
Thus, the products that they exported can enter Indonesia's market, he stated.
The BPJPH team undertook a work visit to New Zealand on Dec 2-6, 2022, to visit the meat producer Silver Fern Farms, among other plans.
"We were there to see whether the company also applies halal standards that the BPJPH established in relation to New Zealand's products that will be exported to Indonesia," Irham remarked.
Until November 2022, some 104 overseas halal institutions from 40 countries had proposed cooperation for mutual recognition and acceptance with BPJPH.
The Indonesian government explores halal product assurance with New Zealand in the efforts to become the leader in the global halal industry by 2024.
Sa'adi remarked that several opportunities for cooperation for halal product assurance can be undertaken by New Zealand, including in the provision of halal meat.
ARTICLE TWO
Indonesia, New Zealand explore cooperation in halal product assurance
New Zealand can conduct several opportunities for cooperation in halal product assurance, including cooperation related to halal meat supply, he remarked.
During this time, New Zealand became one of the halal meat supplier countries. Given that Muslims constitute majority of the Indonesian population, the country certainly needs supply of halal meat.
"There are many halal butchers in New Zealand that originally came from Indonesia. We expect to send many more butchers to New Zealand," he remarked.
The deputy minister expected that the cooperation on halal product assurance can benefit both nations and also respect the sovereignty as well as integrity of each country's territory.
For full story go to:
https://en.antaranews.com/news/264279/indonesia-new-zealand-explore-cooperation-in-halal-product-assurance