As China's only provincial-level Hui (Chinese Muslim) autonomous
region, Ningxia has an obvious and distinct advantage in terms of
developing a halal meat industry, according to Wang Zhengwei, chairman
of the Ningxia Hui autonomous region government.
He added: "Ningxia has four real advantages in this sector – its
Muslim culture, its location, its well-established industrial base and
its superb natural environment."
Ningxia is one of the major centers for the Chinese Muslim
population and has a history of halal food and commodity production
stretching back more than 1,200 years. This is largely due to the rich
soil and clean water of the Ningxia Plain, which allows for the
production of high quality foodstuffs, capable of meeting any
international statutory requirements in terms of quality control.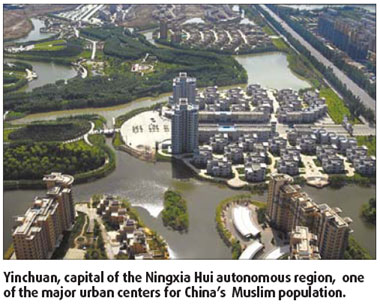 Wang said that the world now has around 1.3 billion Muslims, a
figure representing nearly a quarter of the global population. This
accounts for an annual trade volume of Halal food in the region of $150
billion, a considerable incentive for Ningxia to build on its already
strong Halal credentials.
To date, Ningxia has developed a complete halal food industrial
chain. This has enabled it to produce a range of high quality Muslim
commodities and halal products for both the domestic and international
markets.
There are currently about 30,000 factories and produce suppliers
working in Ningxia's halal food industry. The production in this sector
represent 80 percent of the region's total food industry output and had
a total industrial output value of 7 billion yuan in 2008.
Ningxia now trades with 121 countries and regions in the world. It
has particularly strong links with the European Union, the United
States, the Republic of Korea and Japan. It has also seen considerable
growth in its exports to a number of emerging economies, most notably
India, Brazil and Mexico.
In a bid to boost its exports, Ningxia has now reached agreements on
the certification of halal products with several approved agencies in
foreign countries, including Malaysia and Thailand. Additionally,
Ningxia has founded its own International Certification Center for
Halal Food, facilitating the entry of Chinese halal food into the
international market.
(China Daily 07/27/2009)