PE firms buy key stake in Saudi food group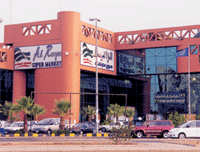 Levant Capital, an investment firm focused on regional private equity investments and Citi Venture Capital International (CVCI) said they have jointly acquired a controlling stake in Saudi-based Al-Raya For Foodstuff Company for $100 million.
The transaction presents an opportunity for Levant Capital and CVCI to capitalize on the growth in consumer-driven demand and the increasingly attractive middle income segment of the Gulf region's largest economy.
Based in Jeddah, Al-Raya operates a fast-growing chain of 25 supermarkets across 14 cities of the western and southern regions of Saudi Arabia.
Founded more than 20 years ago by the current management, the company has a leading position and strong brand loyalty; serving more than 50,000 customers daily across the cities it operates in, which include Jeddah, Najran, Jizan, Madina, Sabya and Taif.
The company achieved sales of SR800 million in 2011, an increase of 17 per cent since 2010.
Sunil Nair, CVCI managing partner and region head for EMEA said, 'We are very excited about the macro-economic fundamentals of Saudi Arabia, the largest and most attractive economy in the Middle East region, as well as the sector and company's growth prospects.'
'This buyout is part of CVCI's strategy of investing in consumer focused businesses in emerging markets and backing strong management teams,' he stated.
Commenting on the transaction, Salameh Sweis, CEO of Levant Capital said the Saudi food retail sector has been experiencing significant growth, driven by increases in population and disposable income.
'The supermarket segment within the food retail sector is expected to grow faster than the overall market as consumers continue to migrate towards organised retail, which Al-Raya is well positioned to capitalise upon,' he stated.
Majed Al-Khammash, founder and CEO of Al-Raya, said: 'We are delighted to partner with Levant Capital and CVCI for the next chapter in Al-Raya's history. We have an ambitious growth plan that involves rolling out new stores.'
'We want to more than double in size over the next few years and we look forward to leveraging the experience and know-how of our new shareholders to support us in achieving this plan,' revealed Al-Khammash.
'Our expansion will continue to focus on our core markets where we want to remain the grocery shopping destination of choice for Saudi families,' he added.-TradeArabia News Service