Tag: SMIIC
SMIIC Technical Committee on Tourism and Related Issues  (TC 5) standard "OIC/SMIIC 9:2019, Halal Tourism Services – General Requirements". 
An overview on Halal standards, certification and accreditation since 2010. 2019 will be seeing the growth in accreditation and hopefully also harmonisation of standards in various regions.
"Since Turkey has a customs union with the EU, its technical abilities, training facilities and know-how on standardization is far greater than any other [Muslim] country."
With the theme of "Halal and Healthy Life: Awareness and Sustainability", the summit focuses on standardization, halal food, halal slaughtering, halal medicine, halal tourism, and halal finance.
Junta Islámica becomes one of the two Islamic Religious Communities in the world that have an agreement of these characteristics with SMIIC.
The UAE participated in the 13th session of the General Assembly of the Standards and Metrology Institute for the Islamic Countries, SMIIC, part of the OIC, which convened in Makkah, Saudi Arabia.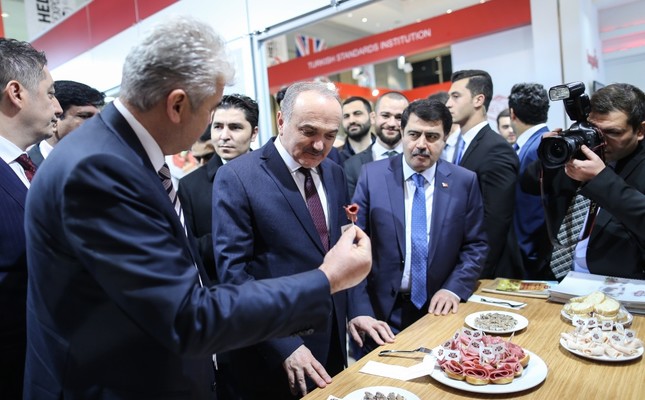 The Standards and Metrology Institute for Islamic Countries (SMIIC) aims to develop trade between its member countries through its work in the field of halal documentation.
Malaysia, which is recognised for spearheading global halal standards, has scored another first as it has been invited to join the board of directors of the Standards and Metrology Institute for Islamic Countries.
The Sixth Meeting of the Accreditation Committee (AC) was held in Dubai, United Arab Emirates on 12-13 November 2014, hosted by Dubai Accreditation Center (DAC).
The Fifth Meeting of the Accreditation Committee (AC) was held in ?stanbul, Republic of Turkey on 09-11 September 2014, hosted by SMIIC General Secretariat.
Accreditation Department at Dubai Municipality has organized the first meeting of experts' committee for accreditation of halal slaughter certification authorities.
World Halal Assembly was jointly organized by Halal Products & Services Association of Pakistan and Pakistan Standards and Quality Control Authority duly supported by SMIIC.
TSE will be cooperating with the Cologne-based Turkish-Islamic Union for Religious Affairs (DITIB), one of the largest Islamic organizations in Germany.
Prime Minister of Turkey, addressed the inaugural ceremony of International Halal Accreditation Forum (IHAF), and welcomed all the international experts of the Halal Industry that came from different parts of the world.
One of the most important outcomes of the Forum was the participation of high-ranking officials of Turkey, which emphasised that the Turks approach is very serious to everything that is connected with the Halal Industry.