By Carla Power for The Observer
In the Cherwell valley, on a quiet country lane just outside Oxford, lies a pioneer outpost of Britain's halal food industry. Beside the swells of green where the Cotswolds begin is Willowbrook Farm, where Lutfi and Ruby Radwan and their five children raise animals as the Qur'an and the prophet Muhammad intended. For the Radwans, that means organically and sustainably. Chickens strut under silver birch and wild cherry trees. Sheep and goats chew chemical-free grass, and nose around wildflower meadows. When it is time for slaughter, each animal will – in accordance with Islamic law – have the name of God pronounced over it before dispatch. Invoking Allah before killing an animal is simply "acknowledging a spirituality behind all material existence", observes Ruby. "It takes you back to humans being stewards of God's Earth."
The Radwans, both London-raised, aren't from farming stock. Lutfi started his career as a geography don at Oxford and a development consultant; Ruby was a teacher and alternative healer. In 2002, disenchanted with both urban academic life and the halal meat on offer, they bought 45 acres, planted thousands of saplings where there had been wheat stubble, and began raising sheep, goats and chickens. Today, they sell their produce online from a small farm shop, as well as offering open days, camping and concerts. On a recent afternoon during lambing season, a neighbouring farmer drops by to talk about plastering the thatched farmhouse the couple are building, while their home-schooled nine-year-old studies at the living-room table.
If Willowbrook Farm conjures up images of The Good Life and Constable paintings, the word "halal" is frequently freighted with controversy. Halal stories braid together two favourite tabloid scare stories: food safety and foreign ways. "Stop slashing animals' throats in 'ritual' slaughters for halal and kosher meat, says new leader of Britain's vets," screamed a Mail Online headline, after the president-elect of the British Veterinary Association said in March that Jewish and Muslim slaughter methods were "inhumane", and warned that a total ban might not be far off. David Cameron rushed to reassure Britain's Muslims and Jews that their halal and shechita methods were safe under his government. Still, halal meat remains a charged issue, with English Defence League members fulminating about its availability in British schools and hospitals.
For animal welfare groups, including the RSPCA, the nub of the issue is stunning before slaughter, legally required under EU regulations for everyone but religious groups (though Sweden has long required stunning, regardless, and Denmark has recently passed similar regulation). Halal slaughter requires that an animal must be alive and healthy, and dispatched with a quick cut to the throat with a sharp knife, a method that allows the blood to drain from the carcass. Killing without rendering an animal unconscious is cruel, argue animal rights campaigners. Not so, argue Muslims, who point to studies showing that animal suffering is minimal with a skilled slaughterer.
In truth, 88% of Britain's halal meat comes from animals that have been stunned before slaughter, but the 12% that isn't generates controversy, even among Muslims. Of Britain's two most prominent halal certification boards, the Halal Food Authority allows stunning, while the Halal Monitoring Committee bans it, on grounds that stuns can sometimes kill the animals before slaughter. With a clutch of regulatory bodies, and varying definitions of what constitutes halal, customers are confused: there have even been calls to have halal meat labelled as "stunned" and "non-stunned". A report by beef and sheep industry organisation Eblex even cites suggestions of having an Islamic religious scale, ranging from "Mandatory Acts" to "Forbidden Acts".
What everyone can agree on is that Britain's Muslims eat lots of meat. The Eblex study estimated that they ate about 20% of the country's lamb. The British Muslim population is 2.7 million, or nearly 5% of the total – a number that it has been estimated could rise to 8% by 2030. Small wonder that people in the meat industry are being attentive to their Muslim customers. "Supermarkets killed the fishmongers and the bakers," said a slaughterman at a Birmingham abattoir who asked not to be named. "They're trying to ban halal because of the stunning issue. If they do, every English sheep farmer is finished."
Perhaps because of the sensitivities around halal, supermarkets have been relatively low-key about their halal lines. Where once, as one halal industry insider joked, "they didn't want to touch halal with a barge pole," there's now a growing acceptance that they can't ignore the Muslim pound. According to the Muslim Council of Britain, the halal food market in the UK is worth £1bn. Ocado has opened an online halal store and Tesco started selling halal products more than five years ago. Some supermarkets have meat counters operated by specialist halal companies. At the Springhill Tesco in Birmingham, the butcher's counter is run by British-based meat supplier the National Halal Centre, with Muslims and non-Muslims buying their lamb cutlets and peri-peri chicken there, under the hanging sign assuring them the meat is "produced in accordance with the teachings of the Qur'an and Sunnah [the way of the Prophet Muhammad]".
For Willowbrook Farm's Lutfi Radwan, the argument about stunning feels disproportionate. With most British halal meat being pre-stunned, "the only difference between stunned halal and non-halal slaughter is the awareness that it's a gift from God," he says. While factory farming techniques and mechanical slaughter persist, "should the stun/non-stun debate really be a top priority for a vet?" he asks. "The last three seconds of an animal's life?"
The halal industry, he says, tends to focus too much on how animals die rather than on how they live. Halal certification audits may focus on the details of whether there's alcohol in the hand sanitiser at abattoirs, or use of the unlawful "blessed blade", which has the pre-slaughter prayer written on it rather than having it pronounced for each individual animal. But there are broader issues at stake, springing from Islam's emphasis on sustainable living and kindness to animals. The Qur'an commands Muslims to "eat of what is in the earth lawful and wholesome", but too often, notes Lutfi, the emphasis remains on the lawful – halal – rather than tayyib, the wholesome and pure. Many halal meat producers too often mirror the pitfalls of the mass food industry: expediency and cheapness often trumping Islamic dictates on natural methods of farming and raising animals. "Halal is so much wider than just how an animal is killed or about meat," says Muhammad Nazir, CEO of Ghanim International UK, a halal food company backed by the Brunei government. "It's about eating food that benefits an individual in their physical and spiritual wellbeing."
As the halal industry grows from butcher's and kebab shops to a huge industry, there's inevitable tension between the desire for convenience and the quest for spiritual enhancement. Chains such as KFC and Nando's are creating halal outlets, Pizza Express uses halal chicken and supermarkets are charting a growing demand for frozen halal foods. "Products that allow for a more convenient lifestyle are becoming more popular, such as food that you can just 'grab and go' like pre-packed halal meat," says Noor Ali, world food manager at Morrisons, who has also seen a rise in products for children – "nuggets, fritters, popcorn and burgers".
Purists such as the Radwans worry about the rush towards the mainstream. "We can't allow ourselves to be subsumed in what's wrong with the British food industry already," observes Lutfi. "If halal means anything, it's got to be a bit more holistic. It's got to distinguish itself."
If Willowbrook Farm is in the vanguard of organic halal food, there are signs that there's an appetite – and the cash – to buy its £18.50 chickens. With the rise of the Muslim middle class, a new generation of consumers wants to eat halal, but also to enjoy variety, and even luxury. So one can now order a "Snack Attack" basket for the hajj pilgrim from Halal Hamper House, or indulge in an "eggless couture cake" from Sugar Cream Cakes, thus avoiding eggs from non-halal chickens. At last year's Halal food festival , "Haloodies" – halal foodies – could indulge in everything from non-alcoholic halal wine to Big Apple halal hotdogs. The festival, the brainchild of Imran Kausar, a doctor, and Noman Khawaja, a dentist turned halal entrepreneur, grew out of frustration. "You could go to a dodgy kebab place, but you couldn't go to a high-end restaurant," said Khawaja. "It was like saying: 'You are Muslim, and you can't drive a Ferrari.' It didn't make sense."
Month by month, that's changing. The online halal restaurant directory Zabihah includes China Tang at the Dorchester and the Michelin-starred Benares in Mayfair. At the end of April, Mail Online reported that sandwich chain Subway had removed pork and bacon from 185 stores, which had also switched to halal meat. Subway responded that since 2007 its policy had been to offer a halal-only menu where there was customer demand. On her blog Halal Girl About Town, Layla Hassanali writes of the fast-expanding options for the Muslim diner, extolling the delights of Cornish lamb at the Ledbury in Notting Hill, or the "hunt for the filthiest halal burger London has to offer". "Here in Britain, we're just starting off," says 22-year-old Hassanali. "Where it used to be just a matter of the old curry houses, now it's all just kind of opening up. I give it two years before the scene is huge."
In Birmingham, it already is. With a younger generation demanding more variety, the city's balti houses have been joined by restaurants such as Bubba Joe's, offering southern fried chicken, as well as Ismail's halal steak house. At Ismail's, where framed Islamic calligraphy and longhorn cattle horns hang on the wall, it's younger diners who tend to order the Mexican border burgers and rib-eyes. For many, a halal steak is entirely novel. "When we ask diners how they want their steak cooked, they sometimes say spicy," said waitress Sophia Karim, a Stoke-on-Trent-raised Muslim of Polish-Bengali heritage. Invariably, however, clients want their steaks well done, since the Qur'an proscribes eating anything bloody. "It used to be that Muslims lived in certain areas," she said. "But now they live all over, and the demand in Birmingham – a really integrated city – is huge."
One entrepreneur who hopes to merge convenience with the ethical dictates of Islam is Shazia Saleem. Her company Ieat began stocking frozen lasagne, shepherd's pie and 10 dishes in the frozen food section of selected branches of Sainsbury's last month. Saleem's goal is to provide British Muslims with dishes they'd grown up eyeing but could never eat because of the meat. As an economics student at Warwick University, her frustration at trying to fill her shopping trolley with anything other than cheese and onion pasties and pesto sauce convinced her there was an untapped market. Saleem was born in Luton, but was 25 before she had her first halal steak, aboard a Qatar Airways flight. "It was one of the most memorable meals I've had," she says, not least because she'd been looking forward to it for so long that she burst into tears when she found they'd run out. A kindly stewardess saved her from the cheese cannelloni by running back to first class for an extra steak.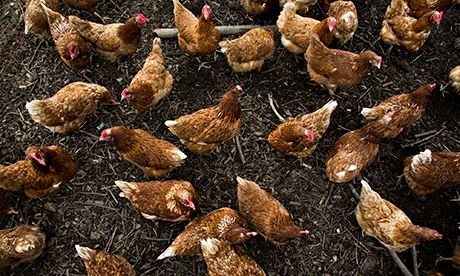 Chickens at Willowbrook Farm. Photograph: Harry Borden for the Observer Food MonthlySaleem, whose earlier ventures include working for the Dragons' Den entrepreneur Peter Jones, had been working for foodie equality ever since she lobbied her Sri Lankan-born parents for "pasta night" when she was seven.
"My argument was, 'I was born in England, therefore I need to have more English food,'" she says. For Muslims, having to stick to the salmon or veggie option may seem small, but it's an everyday exclusion that Saleem wants to end. "For British Muslims who've never been able to eat what everyone else enjoys, or for converts who are English, who have been able to eat everything – and now can't – to be able to get their classic shepherd's pie from their supermarkets, and to know they're getting something that's halal, ethical and tastes good, that's huge," she says. "You are no longer being excluded."
Getting her meals to market wasn't easy, as she was so keen to uphold the "wholesome and pure" part of Islamic strictures, which she believes begins not just with slaughter, but way back in the supply chain and goes on through to a business's profits. "A lot of time is spent focusing on halal, and 50% of the instructions – the tayyib part – often get ignored." To this end, she wants to set up a foundation with some of the profits, has avoided industrialised conditions for her meat and used packaging from sustainable forests. Keeping her supply chain halal cost "a huge amount of money", she says.
With the wider British public concerned about food safety, halal's appeal to the mainstream public would seem the next logical step, says Khawaja, who, along with Kauser, has built on their Halal food festival by selling Haloodies packaged meats to Harrods and Ocado. But before halal becomes the next organic, everyone – Muslims included – needs to be better educated about what it means. Khawaja says: "If someone comes along and says halal is really barbaric and inhumane, and if Muslims don't have enough information about knowing what halal really means, then the temptation is to hit back by saying the criticism comes from Islamophobia," he observes.
While the Daily Mail continues with its frenzied coverage – ("Horror at halal slaughterhouse," read an early spring headline) – a growing group of Britons wants to add nuance to the conversation. Pioneers such as the Willowbrook farmers and Ieat's Saleem seek to expand the debate beyond the issue of stunning and to hold a mirror up to wider issues in the British food industry. Growth projections for halal markets suggest they may do well in addition to doing good: a recent report from the market research firm Dinar Standard found that the global halal food and lifestyle market, worth $1.62tn in 2012, is set to grow to $2.47tn by 2018. Such success may not silence concern about halal standards, but it will certainly help transform what was once perceived as an exotic practice into a British tradition.