Hear about this new Halal Brand based on ethical consumerism at the World Halal Forum on the 4-5 April 2011 at Kuala Lumpur Convention Centre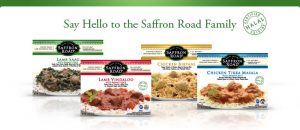 I was recently contacted by Saffron Road to review their halal, all natural, gluten-free frozen Indian entrees. At first, I was amused by the idea of frozen Indian food. Growing up, my mom (my primary Indian cooking teacher) highly stressed the importance of fresh ingredients playing a crucial role in the savory flavors that define Indian cuisine. I quickly visited Saffron Road's website and noticed that the company boasted of authentic taste and exotic flavors. Their confidence in their products made me curious to try them. As a specialist in Indian cooking, I took up the responsibility to review their products without a second thought.
I was sent four Saffron Road entrees – Chicken Tikka Masala, Chicken Biryani, Lamb Saag, and Lamb Vindaloo. I'd like to clarify for the sake of full disclosure that these products were sent to me free of charge for review purposes. I was not paid anything to write this review nor was MM. Rest assured, I will be thorough in my review and if I have any criticism then I will gently mention it below.
About the company
Saffron Road, a pioneer in natural and organic food movement, is a praiseworthy brand for its pasture-raised and 100% vegetarian-fed livestock. They cater to the needs of health conscious consumers. Adnan Durrani, CEO of American Halal (parent company of Saffron Road), said in a recent press release, "We had this intuitive vision over a year ago – that with Saffron Road we could build a Halal brand based on ethical consumerism, which embodied the timeless values of the natural food movement our team had embraced over the last two decades: antibiotic-free, hormone-free, sustainably-farmed, and Certified Humane®. …"
Their website mentions, "To ensure the sanctity of our Halal preparation, Saffron Road's products are fully certified by IFANCA, which is the largest Halal certification agency in the world. We are also proud that our chicken is Certified Humane® by Humane Farm Animal Care. All of our meat is sourced from small farm operations that treat the animal humanely and never use antibiotics and growth hormones. Even our Basmati rice is selectively hand picked from farmers who share our sustainable "tayeeb" values."
The company should be given accolades for bringing halal food options into the mainstream market for Muslim consumers. America's Whole Foods Market chain, which specializes in natural and organic foods, started selling Saffron Road's frozen entrees because they believed that the halal label, properly applied, fits the company's ethos. "Our launch of Saffron Road continues (our) leadership in product innovation and in satisfying and delighting our customers," says Errol Schweizer, the chain's national grocery buyer.
Not only that, the company recently proudly announced that they had been awarded Gluten-Free certification, meeting yet another important consumer requirement.
My Entrée Review
When I received the products, I could not help but admire the beautiful and attractive packaging of the entrée boxes. I could only hope that the entrée inside would impress me just as much, if not more as the outside packaging.
As I started popping these entrees one by one into my microwave (they can also be oven-cooked), my house filled with the warm aroma generally experienced in Indian restaurants. This made me eager to taste them even more!
I am sure many of you will agree with me that a common complaint with frozen meat dishes is that the meat is usually chewy, rubbery and seems uncooked even after it has been cooked for the prescribed time. One of the first things I noticed, as I sat down to eat the chicken biryani and chicken tikka masala, was that the meat was extremely juicy and tender. The curry was ample in quantity and held perfect consistency to be eaten with rice. The overall taste was rich and reminded me of homemade food. The raisins and cashews in chicken biryani were a sheer treat.
I must confess that I have no taste buds for lamb meat so I asked for my husband's help in reviewingthe lamb saag and lamb vindaloo. As expected, he graciously agreed. For both lamb entrees, he commented positively on the authenticity of the taste and the tenderness of the meat. In case of lamb saag, the curry was well liked by him because of its thicker consistency (which is expected). Lamb vindaloo curry had a similar consistency to chicken tikka masala but just as in the previous entrée, the amount of curry was generous and the amount of rice was just perfect to go with the meat pieces.

Overall Specs
Moving onto some critical points about the overall specs of these entrees. There are a couple of factors that rely on individual preference and can be both, positive or negative.
The entrees come with a convenient spice meter on the front of the box. In my humble opinion, lamb vindaloo, which was labeled as spicy, was not very spicy. As someone who is accustomed to eating Indian food all her life knows that large amounts of spices are appreciated in our traditional food. However, I am not very fond of a lot of spice. Especially when I am not being able to feel my tongue at the end of the meal,  so I really enjoyed the spice level in these entrees. It is also beneficial in accommodating many others who are not used to high spice levels and allows them to enjoy traditional tasting Indian food without feeling a burn.
The other factor is the quantity of the product. For an average person, the amount that comes in the box is perfect as a moderate sized meal. For myself, it was more than enough and served as a filling meal. However, in my husband's case, he felt that the quantity is perfect for lunch but not for dinner since he prefers to eat a bigger meal at the end of the day. As I mentioned earlier, this is personal preference and has no co-relation with the taste and the quality of the product.
The last spec to be discussed is the price of these products. The price of each entrée is about $5, which when compared to restaurant prices for similar cuisine is highly comparable considering it saves you time and travel expenses.
Concluding Remarks
As an Indian cuisine cooking classes teacher and a loyal Indian food lover, I was overall very satisfied with these entrees and will definitely be going to our nearby Whole Foods Market to pick up a few for my family.
I believe, the biggest advantage of these products will be experienced by Indian (or those who like Indian food in general) bachelor men and women who are away from mom's homemade food, college students, working wives, busy moms, and anyone else who wants a quick authentic Indian meal. Finding traditional Indian food has never been easier and is bound to make life convenient for many Indian cuisine lovers!
I commend Saffron Road for creating flavor-filled Indian food in convenient packaging and bringing healthy, organic, halal food options for Muslims to mainstream grocery stores. I look forward to the introduction of other innovative food products from this company.
Zahed Amanullah, Director, American Halal Co. who produce Saffron Road products will be speaking at the 6th World Halal Forum, 4-5 April 2011, Kuala Lumpur Convention Centre, using Saffron Road as a case study for putting products with values on the supermarket shelves.