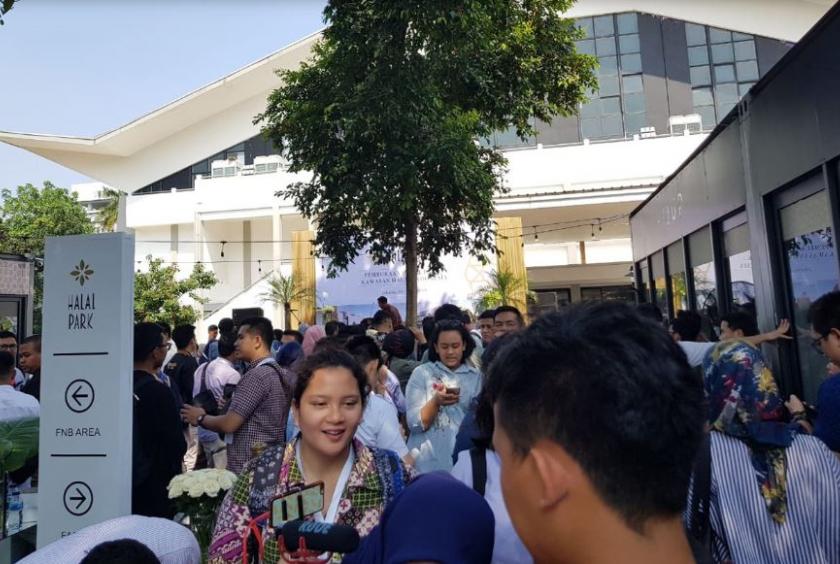 (Jakarta Post/ANN) – President Joko "Jokowi" Widodo inaugurated on Tuesday Muslim tourist and shopping destination Halal Park at the complex of Bung Karno Sports Stadium in Senayan, Central Jakarta.
A bigger version of the park called the Halal Lifestyle District will begin construction in the next year or two.
"The demand of global halal products is projected to reach US$3.7 trillion in 2019 from around $2 trillion in 2013 […] and according to the Global Islamic Economic Report, the market value for Muslim fashion is estimated to reach $327 billion by 2020," Jokowi said during the inauguration.
"This is such a big market that we can't miss out on. Therefore, this is the right time for us to introduce our products. Halal Park is an embryo for halal district development that will be also established here."
A press statement issued during the launch says that in the future the Halal Lifestyle District will become a place for halal industry players to showcase and sell their products from Islamic apparel to halal food and beverages. The district is being planned as a Muslim-friendly tourist destination that operates with a sharia ecosystem.
The district's concept is represented by Halal Park, a miniature version of the Halal Lifestyle District that consists of booths that display and sell products that range from clothing to coffee.
Meanwhile, the Halal Lifestyle District will occupy 21,000 square meters of land with a total investment of Rp 250 billion ($17.75 million). It will be constructed by state-owned construction company Wijaya Karya (Wika).
Businesspeople welcomed the idea to establish Halal Park. Diajeng Lestari, the CEO and founder of Muslim fashion brand HIJUP, said the park was "a breath of fresh air" for businesspeople in the halal lifestyle industry and could act as a platform for halal industry players to introduce their products.