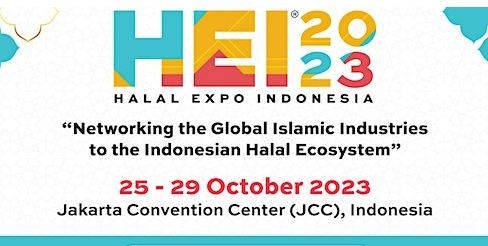 JAKARTA, INDONESIA – The organizers of the highly anticipated Halal Expo Indonesia (HEI) 2023, PT Halal Expo Indonesia, and KPMI (Indonesian Muslim Entrepreneur Community), are thrilled to announce the dates of this momentous event. The premier B2B Halal Industries exhibition and conference will take place from the 25th to the 29th of October 2023 at the prestigious Jakarta Convention Center, Indonesia.
HEI, Indonesia's largest Halal industry exhibition, extends an exclusive invitation to professional visitors for the first three days of the event. Attendees can expect an unparalleled opportunity to engage, network, and forge meaningful collaborations in the thriving Halal industry.
Over the years, KPMI's extensive network of more than 48,000 members across 45 regional coordinators, 42 city/district coordinators throughout Indonesia, and three regional coordinators abroad has been instrumental in growing the expo's influence and reach. The cooperation and participation of such a broad audience emphasize the scale and significance of this event on a national and international level.
HEI 2023 boasts a list of prestigious partnerships with international halal expos and authorities, affirming its reputation as a leading global platform in the Halal sector. Our esteemed partners for this year's event include:
Saudi International Halal Expo
Halal Expo Nigeria
Halal Expo London
Malaysia International Halal Showcase (MIHAS)
LPPOM MUI
Korea Halal Authority
Halal Control Germany
Vietnam Halal Center
Japan Halal Certification Promotion Organization
Cape Malay Consultant
and many others
This diverse and dynamic collaboration underscores HEI's commitment to bringing together the best of the Halal industry from across the globe. It is a unique opportunity for companies worldwide to connect with the Indonesian Halal community and beyond, paving the way for business expansion and growth in the flourishing Halal market.