Malaysia and Indonesia have long been rivals – battling over territorial supremacy, diplomatic issues and even cultural appropriation.From alleged theft of traditions to the superiority of their national football teams, bragging rights between these two ASEAN countries have been as hot an issue as the fiery sambal (chili sauce or paste) they are both so proud of.

This year's Mastercard-CrescentRating Global Muslim Travel Index (GMTI) 2019 released last week provides citizens of both countries with one more thing to debate about – how Muslim-friendly they are as a travel destination.

Malaysia has topped the index of 130 global destinations for the past eight years, but this year's edition has seen Indonesia, the world's most populous Muslim country, climb up one spot to share the summit with their neighbours.

The GMTI tracks the health and growth of Muslim-friendly travel destinations in four strategic areas – access, communications, environment and services – and has become a leading study which provides insights and data to help countries, the travel industry and investors gauge the development of the travel sector while benchmarking a country's progress in catering to Muslim travellers.

Indonesia secured top spot on the index through the sustained efforts of its Ministry of Tourism that invested in the country's tourism and the travel industry and developed Muslim tourist-friendly infrastructure, stated a press release issued by Mastercard and Muslim travel advisory CrescentRating.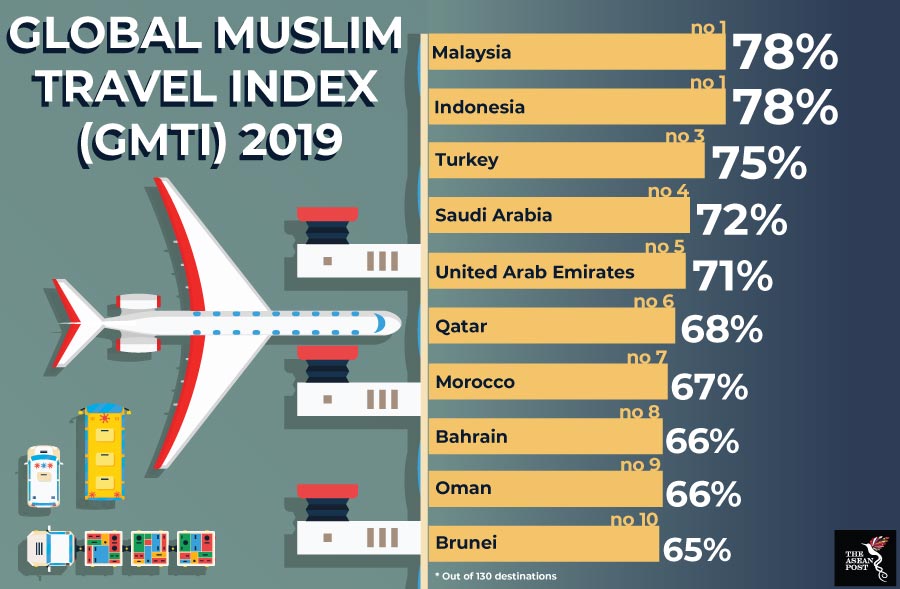 Mastercard-CrescentRating Global Muslim Travel Index (GMTI) 2019
As in previous years, ASEAN countries featured prominently on this year's index.
Brunei rounded out the top-10 while Singapore continues to be the premier Muslim-friendly travel destination among non-Organisation of Islamic Cooperation (OIC) destinations. Among non-IOC destinations, Singapore is followed by Thailand and the United Kingdom (UK). A sixth ASEAN country, the Philippines, finished joint 36th in the index alongside France and Spain.
OIC countries like Turkey, Saudi Arabia, Morocco and Oman continue to be popular with Muslim tourists, and these destinations can continue to reap the benefits of their inherently Muslim-friendly environment by leveraging new technologies to strategically build services that better engage young, millennial Muslim travellers.
Untapped market
Although they already have a robust Muslim travel industry, a strong GMTI ranking is especially beneficial for Malaysia and Indonesia – both of which are eager to grab a slice of the ever-expanding global Muslim travel pie.
The halal travel sector's contribution to the global economy is expected to jump 35 percent to US$300 billion by 2026, up from US$220 billion in 2020. There were an estimated 140 million Muslim visitors worldwide in 2018 – up from 131 million in 2017 – representing 10 percent of the global travel industry. Globally, Muslim visitors are forecast to grow to 230 million by 2026.
Despite its huge potential as one of the fastest growing tourism sectors in the world, the Muslim travel market remains relatively untapped – especially in non-OIC destinations.
In a bid to attract more Muslim tourists, non-OIC destinations have been pro-actively developing Muslim-friendly tourism. For example, destinations such as Spain, South Korea and the Philippines have developed useful resources and travel guides that cater to Muslim preferences by listing best halal restaurants and nearby prayer facilities.
Halal Travel 2.0
The Muslim travel market has undergone significant changes in recent years. Big data analytics, augmented reality (AR), virtual reality (VR) and artificial intelligence (AI) are making a tremendous impact on the industry, redefining every stage of the experience from planning and purchasing, to living the experience and sharing the adventures with others.
If businesses, hotels and tour operators providing functional services such as halal food options and prayer facilities marked Halal Travel 1.0, then the industry's digital and technological transformation means it is now firmly in Halal Travel 2.0.
Better engagement of Muslim travellers in the digital age will prove to be a cornerstone of Halal Travel 2.0 and an area which Malaysia and Indonesia are sure to focus their attention on to ensure more bragging rights when next year's index is released.