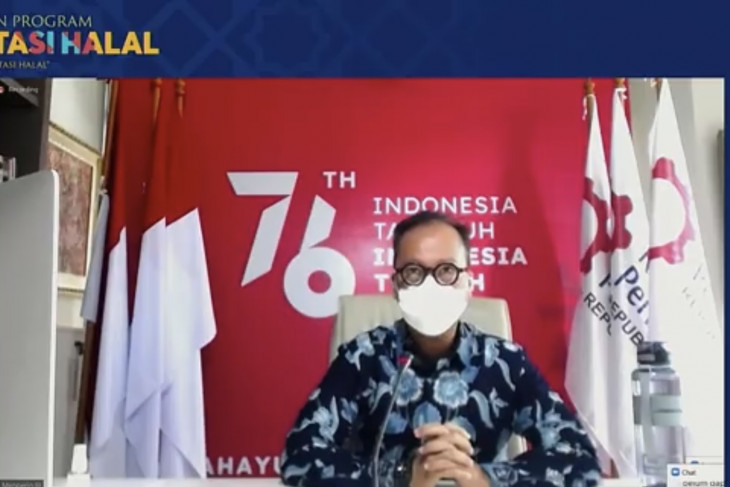 Jakarta (ANTARA) – Reporter: Sella G, Resinta S
The Ministry of Industry has said it will provide support to halal businesses to help Indonesia emerge as the backbone of the global halal economy.
It said it aims to achieve this by extending halal facilities to halal supervisors in Halal Safe and Lock Industrial Estates and small- and medium-sized industries (IKM) in the East Java region to strengthen the halal ecosystem in the country.
"We hope that this activity can stimulate the development of the halal ecosystem and strengthen the competitiveness of national products," Minister of Industry, Agus Gumiwang Kartasasmita, said at the virtual launch of the Halal Facility Program, Thursday.
To develop the halal industry in Indonesia, especially the 1.6-million IKM sector, the ministry is trying to strengthen and accelerate the halal ecosystem in providing halal facilities, Kartasasmita said.
Some of the halal facilities include process assistance, product and personnel certification, halal infrastructure through halal industrial areas, provision of halal inspection agencies by technical implementing units (UPT), provision of training institutions by industrial training centers (BDI), and opening of market access for halal products, both domestic and foreign, he elaborated.
"In an effort to strengthen the competitiveness of the halal industry, the Ministry of Industry is also preparing halal infrastructure through the halal industrial area (KIH), which will implement a halal product guarantee system," the minister said.
Currently, there are three industrial areas ready to provide halal zones — Modern Cikande Industrial Estate, Batamindo Industrial Estate, and Halal Safe & Lock Industrial Estate, Sidoarjo, East Java, he added.
In 2017, the demand for halal products in Indonesia reached US$218.8 billion, or 22 percent of Indonesia's total GDP (based on consumption of halal products), he noted.
This consumption is expected to continue to grow in line with the large Muslim population in Indonesia, which totaled 229 million in 2020, or 13 percent of the entire Muslim population in the world, which is considered a large size for the domestic halal market, he pointed out.
"Given that halal has become a world-recognized standard and the demands of the Muslim community for halal guarantees their daily needs, the state must attend and take over this important role," Kartasasmita stressed.
As per regulation, every halal product is required to have a halal certificate for products that are circulated, produced, and traded within the territory of Indonesia, he noted.
The food and beverage industry was the first sector required to have halal certification, and the rule has been applied from October 17, 2019 to October 17, 2024. The certification requirement has been implemented as part of the government's policy to ensure the halal industry continues to grow, Kartasasmita remarked.