LONDON – A growing number of mainstream clothing, fast-food and confectionery brands are developing products for ethic groups.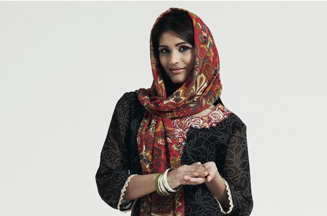 Asda's latest range from George
On
Monday, Asda launched a 13-piece Asian clothing range, under its George
fashion label, that includes sequinned salwaar kameez suits and dapata
scarves.
The launch is pegged to Islamic holiday Eid, which takes place later this month.
Fiona
Lambert, brand director at George, said: 'This is the UK's first
mainstream range of traditional Asian clothing. We have the broadest
socio-demographic group of all the supermarkets and we wanted to offer
affordable clothing suitable for all our customers.'
She added
that sales of Asda's ethnic food ranges have seen a 46% year-on-year
increase during Ramadan and so the retailer was expecting strong demand
in the build-up to Eid and the Hindu Diwali celebrations.
Chocolate
company Thorntons, meanwhile, is launching a box of non-alcoholic
sweets designed to help celebrate the same festivals. The Thorntons
Classics collection comes in a black box with a gold pattern, created
by the celebrity henna tattoo artist Ash Kumar.
Thorntons brand
manager Emma Dickinson said: 'Eid and Diwali are growing celebrations
in the UK and confectionery gifting is a huge part of these festivals.'
FMCG
giant Mars is also trying to broaden its appeal among different ethnic
groups. In June, it announced that all chocolates manufactured at its
Slough Mars factory are now certified kosher.
The company
partnered with a kosher certification board, the Kashrut Division of
the London Beth Din, on the project. Products to gain certification
include Mars bars, Snickers, Galaxy and three Tracker bar variants.
Fiona Dawson, managing director of Mars Chocolate, said: 'We want our products to be enjoyed by as many consumers as possible.'
Supermarket
Tesco sells around 300 Polish products, from canned fish and carrot
juice, as the supermarket claims there is a huge demand for Polish
delicacies in Britain.
It added that Polish cuisine has become
its fastest-growing ethnic food range ever launched, including our
Indian and Chinese ranges.
Tesco's Polish range was launched in just 10 stores in September 2006 and has since been extended to more than 500 stores.
In
May, fast-food retailer KFC launched a halal-only menu in eight of its
London stores. The concept will roll out further if popular. The stores
sell only chicken products that have been approved by the Halal Food
Authority and that adhere to Islamic dietary rules.
KFC said the
move was intended to ensure the company was catering to a broader range
of customers, following a growing demand for halal products, especially
in areas with large Muslim populations.
Masood Khawaja,
president of the Halal Food Authority, welcomed the trial and said:
'The Muslim community can now enjoy all the products in these
restaurants.'
KFC is not the first fast-food chain to introduce
a halal menu. Earlier this year, pizza-delivery firm Domino's
introduced a halal-only outlet in Birmingham, which does not serve
products containing ham or bacon.
Limiting the menu to draw in
new customers could alienate existing users; however, Domino's said it
had 'thought long and hard' about the decision not to offer pork
products. A spokeswoman said: 'We appreciate we cannot please
everybody, but there are alternatives, such as turkey ham, and we are
sure this decision is the right one.'