By Shakeel Ahmad Ramay | China Daily Global | Updated: 2022-03-29 09:03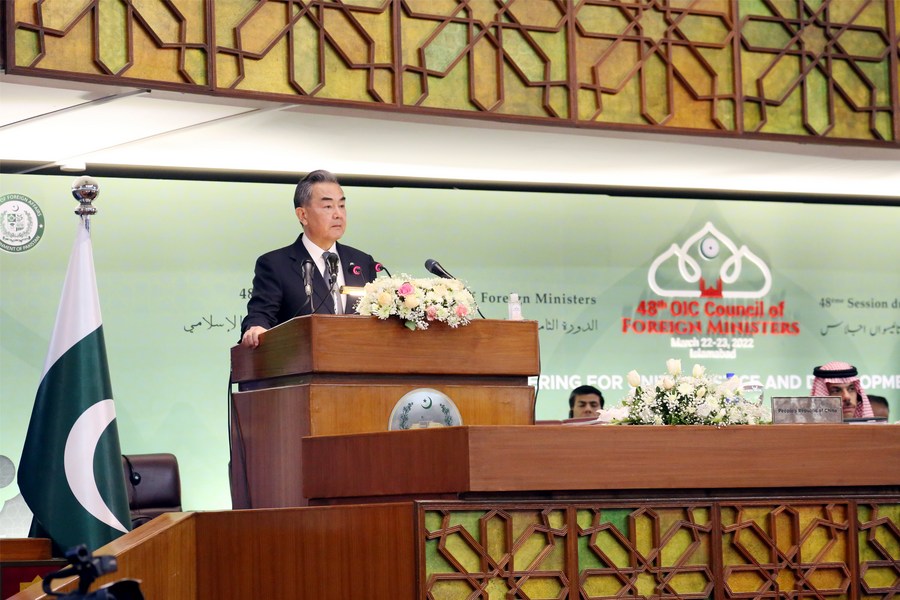 For the first time, the Council of Foreign Ministers of the Organisation of Islamic Cooperation invited a Chinese counterpart to its 48th session in Islamabad on March 22 and 23. State Councilor and Foreign Minister Wang Yi stated China's willingness to build a sustainable partnership with the Muslim Ummah, or the whole Islamic community.
It is good to note that the foreign ministers at the session and their countries are reciprocating exchanges in a positive way. At least four main factors are encouraging Muslim countries to build a partnership with China.
First, China does not dictate what countries can do and has no interest in lecturing on governance or economic models. China respects the governance and economic structures of all countries and does not try to export its model of democracy.
Second, China is interested in strengthening economic relationships to foster sustainable development and lift the living standards of common citizens.
Third, China promotes peace and development through dialogue. It does not take sides in conflicts between Muslim countries. China always focuses on facilitating dialogue and development for sustainable peace.
For example, in the Middle East, China is working to defuse tensions and bring peace. To achieve this objective, China has devised a two-pronged strategy. On the one hand, it is investing in economies and providing humanitarian assistance to people in such countries as Yemen and Syria. On the other hand, China is promoting dialogue among all parties.
Fourth, because of China's neutral position, Muslim countries believe that China can help to sort out conflicts between them. For example, China has simultaneously developed good relations with Saudi Arabia and Iran. China invests in both countries and has emerged as the biggest trading partner of both countries. Thus, China can work with both to settle their differences through dialogue.
Peaceful settlement of conflicts will give a huge push to sustainable peace in the region and will encourage other countries to strengthen their relationships with China.
Wang's openness in looking for a mutually beneficial and respectful partnership with the Muslim Ummah is consistent with Chinese policies over the decades. China's top leadership has always emphasized the need for friendly and brotherly association.
Over the course of time, China has launched numerous initiatives to engage with Muslim countries at the bilateral and multilateral levels.
At the multilateral level, a prominent example is the China-Arab States Cooperation Forum, which was established in collaboration with the Arab League in 2004. China is also working with Muslim countries that are members of the Association of Southeast Asian Nations, as well as those in South and Central Asia.
At the bilateral level, China has emerged as a major trade and investment partner. Saudi Arabia, Indonesia and Malaysia are among its major trade partners, while the United Arab Emirates is a key hub for the re-export of Chinese products to Africa and regional countries. In addition, the China-Pakistan Economic Corridor is the ultimate example of brotherhood.
Simultaneously, China and Muslim countries are tapping the potential of the Belt and Road Initiative, with China already investing about $400 billion through the BRI in Muslim countries, helping Muslims to overcome economic and social problems.
Amid changing global dynamics, China and the Muslim Ummah need each other, as both are facing multiple challenges from the hegemonic behavior of some Western powers. The repeated disinformation about the Uygur people in China's Xinjiang Uygur authonomous region is apparently meant to drive a wedge between them.
Together, China and Muslim countries will prove to the world that civilizations can not only oppose discrimination against them and conflict between them, but also advocate common values and the common prosperity of humankind.
The author is CEO of Pakistan's Asian Institute of Eco-Civilization Research and Development.