Minister to speak at food conference
Dubai: Thu, 16 Feb 2012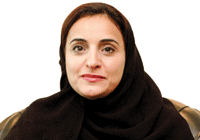 UAE Minister of Foreign Trade, Sheikha Lubna bint Khalid Al Qasimi, has been confirmed to deliver the opening keynote address at the Gulfood Conference set to take place this month in Dubai.
The event, which is one of the biggest in the region, will take place from February 19 to 22 at the Dubai International Convention and Exhibition Centre.
The annual Gulfood Conference running concurrently with the exhibition brings together over 40 world-class speakers and experts to present insights and innovations shaping the global food industry, said a statement.
Sheikha Lubna will focus on the economic outlook on the food market, including the key issues of food security, rising food prices in global markets, and the policies and trends informing local sourcing versus food imports.
She will highlight Dubai's position as a key international trading hub and the role the city will play in driving sustained growth throughout the region through trade, exports and re-exports, the statement said.
Helal Almarri, CEO, Dubai World Trade Centre, organiser of Gulfood, said: "Dubai is the number one export market for a number of countries around the world, and Gulfood's commitment to the industry extends well beyond business brokering, to networking and knowledge exchange. This year's conference elevates Gulfood's offering to new levels of excellence."
The conference consists four specialised programmes that reflect the latest international industry trends. Food Leaders Summit sponsored by Unilever, Pro Chile and Global Food Industries, will highlight keys to leadership success; Foodpreneur Forum will offer practical guidance for professionals in the planning, research and test phases of new market development or product launch; Food Processing & Packaging Forum will discuss the key challenges facing manufacturing, processing and packaging industry professionals in today's economy, with a combination of case studies, keynote sessions and interactive discussions.
Gulfood Conferences are open to business and trade visitors within the industry.  The cost of attending the Food Leaders Summit, Foodpreneur Forum, Food Processing and Packaging Forum is Dh1,295 ($351.08) each, and Dh950 ($257.55) to attend the Franchise Workshop.  Visitors can also attend all four for Dh3,995 ($1083.07). – TradeArabia News Service