One city is finding there are handsome profits to be made from Muslim food.
Yinchuan, the capital of Northwest China's Ningxia Hui autonomous region, is reaping large benefits as it nourishes the ever growing trade in halal food – prepared as prescribed by Muslim law – between China and Arab world.
In the past two decades, Yinchuan and the region had relied heavily on selling machine tools, activated carbon, garments, electronic and cashmere products to developed economies, including Australia, Europe, Japan and the United States.
However, the global financial crisis of 2008 severely dented the region's export earnings because of its reliance on these economies and caused a rethink about its overseas trade.
Ma Li, the mayor of Yinchuan, says: "To restructure our export markets and products, we started to target the world's Muslim communities to export halal food, and to develop a new market growth point, especially to the markets of Middle East, Southeast Asia and a part of Central Asia."
Ningxia is China's only provincial-level autonomous region for the Hui ethnic group, who have strong cultural, religious and business connections with Muslim countries.
"Even though Yinchuan's GDP cannot compete with China's coastal cities at the moment," Ma says, "focusing on specific market regions we are familiar with is a useful way for inland cities like us to increase trade."
Amid economic globalization and regional integration, the economic and trade ties between Yinchuan and the Arab world are becoming increasingly close with the rapid rise of bilateral trade.
Trade between Yinchuan and Arab nations was worth $1.42 billion (1.06 million euros) last year, 3.5 percent more than in the previous year. Yinchuan's halal food industry accounted for 47 percent of the region's export quota last year, Yinchuan Customs says.
Tian Yunhe, president of Ningxia Jingyitai Halal Food Co Ltd, says business travelers from Arab states to Yinchuan are interested in buying not only daily necessities such as shoes and clothes, as they did previously, but also halal food, which is made in Yinchuan and finds bigger markets in the Middle East, especially during important Islamic festivals.
"The annual Muslim pilgrimage to Mecca lifts demand for food in Saudi Arabia significantly," Tian says. "Every year the city's catering and service industries need to import a huge amount of food from countries such as China and Pakistan, whose prices are lower than for similar products imported from Qatar, Jordan, Egypt and Algeria."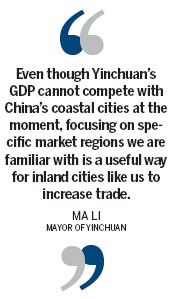 Even though high-end halal food is largely needed for wealthy Muslims during the Hajj, convenient fast halal fast food is still the first choice for most Muslims who travel from other parts of the world, Tian says. Low price, fast delivery and a direct sales network are essential in winning long-term customers in this important regional market.
The company spent five years with China Agricultural University and Ningxia University to develop frozen technology for convenience foods, and says it is the first company in Yinchuan to provide Haj meals in Mecca.
To increase market share, the company, with 380 empolyees, began a project last year to deliver 10,000 metric tons of frozen meals to Mecca within three years.
The company's sales to Saudi Arabia last year were worth 42 million yuan (5.14 million euros), 14 percent more than a year earlier. The company has also built a warehouse near King Abdulaziz International Airport in Jeddah, close to Mecca.
Compared with China's coastal provinces, Yinchuan enjoys fine raw materials to develop the halal food industry, including 303,600 yellow cattle for breeding, 158,000 cows for livestock with milk production capacity of 440,000 tons a year, 5.34 million sheep for breeding and a 7,467-hectare organic rice base, Ningxia's agriculture and animal husbandry department says.
Yinchuan Laoheqiao Halal Food Co Ltd, a halal meat supplier, accounts for 21 percent of Yinchuan's halal meat sales to the Middle East and plans to build a new slaughterhouse in north Yinchuan in October, as the orders from Arab markets have risen markedly since February.
The company now owns a slaughterhouse, a small fur factory and a total of 38.1 hectares of separate breeding grounds for livestock, raising both cattle and sheep.
"Muslims only eat meat from livestock slaughtered ritualistically at their necks by a sharp knife," says Ma Tianyi, vice-president of Yinchuan Laoheqiao.
"More than 70 percent of our staff are Hui, and we follow strict Islamic rules about what the cows and sheep eat and drink, when slaughter can be carried out and under what conditions," Ma says. The company's premises, between the Yellow River and Helan Mountain, have 42 hectares of breeding grounds for livestock.
They delivered 53 tons of standard halal mutton to four Middle Eastern countries last year, including the United Arab Emirates, Qatar and Kuwait. Ma says there are still a number of attractive markets in North Africa worth tapping, but to do that, companies need to come up with new growth strategies and have an idea about market segmentation.
"If we don't understand the needs, cultures and thoughts of Arab consumers, we can hardly develop further business relationship and long-term cooperation with them," Ma says. The company is now assessing the possibility of setting up a sales office in the Jordanian capital, Amman, next year.
However, Ma says there are still different interpretations about halal food among Muslims, and that is becoming an obstacle to the business.
To solve this problem, China has already started to bring its halal food certification to the world arena for wider recognition. Ningxia Halal Food Certification Center in Yinchuan has signed agreements with counterparts in countries such as Australia, Egypt, Malaysia, New Zealand, Qatar and Saudi Arabia to grant mutual recognition to their certifications.
The market in Middle East is not the only destination for companies in Yinchuan. Some enterprises also find themselves popular in Islamic countries in Southeast Asia as the economic growth in this region offers prospects for a higher intake of Halal food.
Hongshanhe Muslim Food Co Ltd has been exporting a comprehensive range of Muslim food, from flour-made pastry to seasoning and beef tallow, to Malaysia and Qatar for three years. It plans to build a 330-hectare plantation in southern Ningxia to grow pepper and other vegetables to support production by the end of this year.
Wang Xiang, vice-president of Hongshanhe, says that, worldwide, halal food is not only consumed by 1.5 billion Muslims but also by at least 500 million non-Muslims. "However, China's halal food exports only account for a meager percentage of the world's total, indicating that China's halal food industry is far from competitive in the world market," Wang says.
To attract more Muslim customers, last year Hongshanhe spent $450,000 on establishing a new English-language company website, and advertisements in magazines and the Internet, to promote its products in Malaysia and Qatar. It has since shipped $21 million worth of halal food to Malaysia and Qatar.
zhongnan@chinadaily.com.cn